| | |
| --- | --- |
| Life as an International MBA Student | Edward from Nigeria |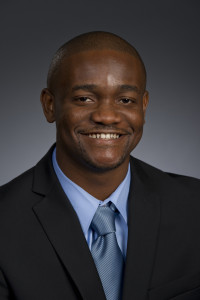 Edward Barber is a full-time MBA student at the W. P. Carey School of Business at Arizona State University, with an emphasis in supply chain management. You can find out more about how the school assists international MBA students here. Edward is originally from Nigeria, and we asked about his experiences applying as an international student.
What was your motivation for studying in the US?
Studying in the U.S. gave me the opportunity to meet, make friends and network with American business-oriented students. I was also motivated by the opportunity to learn and understand business and management disciplines from the perspective of the U.S.
What obstacles did you face in your application process?
Applying as an international student came with its unique challenges. Due to the lesser pool of GMAT test centres and duration of delivery of important documents, I had to plan further ahead than home students during my application process. I also had less flexibility than home students because of the uncertainty surrounding student visa acceptance by the U.S. Embassy.
What support were you given by the school to help you transition to US life?
The international MBA students launch at the W. P. Carey School of Business was very beneficial to me. It eased the settlement process into the U.S. in terms of understanding contemporary American culture, ethics, and language.