| | |
| --- | --- |
| Life as an MBA Student | Engineer to Entrepreneur: The Wharton Transformation |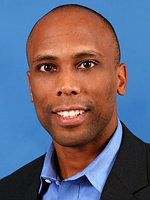 Eric Allen is the co-founder and director of Admit Advantage. Eric changes career from Engineering to Entrepreneurship. We caught up with Eric after his career change, to hear about his Wharton journey. 
What are the unexpected things you've learnt about yourself along the way while changing career from engineering to entrepreneurship?
There is a huge difference between management and leadership. As a business leader, I make hundreds of decisions on a daily basis that are critical to the strategic and operational direction of the company. Our staff looks to me to set the tone for corporate culture, attitude, and work ethic that trickles down throughout the organization. 
Another surprise for me as an entrepreneur was how much time I spend soaking in information. I spend over half of my time reading and listening to customers, vendors, partners, and investors to help me shape the direction of the company, which can be a bit frustrating as I try to balance operational progress with defining the appropriate strategic direction.
**
What is the one thing you wished you had known before embarking on you MBA journey?**
I wish I had realized the importance of networking and building relationships. As a career changer, I thought it was critical that I knew everything about the business classes that I took. As a result, I graduated Wharton with honors, but I missed out on opportunities to build meaningful relationships with some of the smartest and most dynamic people in the business world.
Do you feel Admit Advantage would be the success it is today without your MBA?
Certainly not, for the line of business that I'm in today. Business school was critical to building my professional network, providing me with the business toolkit that gives me the confidence to run my business every day, and the Wharton brand gives me the credibility I need as I talk to investors, vendors, clients and partners. Finally, my experience as a Wharton admissions officer gave me the perspective from the admissions side that is critical to my success delivering advice to my clients. 
If you wrote a book about your MBA experience what would it be called?
Engineer to Entrepreneur: The Wharton Transformation**
**
What, if anything, would you change about your experience? What would make the perfect MBA for you?
I would have networked more and gotten to know more people. The people at Wharton are absolutely amazing with an incredible breadth of background and experiences, and I wish I had dedicated more time to get to know more people. I also would've gone overseas for a semester. Business is much more global than ever, and it's important for people to learn in an environment outside of the U.S. Finally, I would've also focused more on developing my "soft skills" including communication and human capital skills, which are critical to running a business.
What's the one memory that will always stick with you throughout this experience?
I will always remember the friendships that I have built. Not only was my Wharton experience a transformational experience in my career, but it has created a meaningful set of friends, including my two co-founders, that I will cherish forever. I will also remember the activities that I participated in outside of Wharton. One very meaningful experience for me was the Wharton Leadership Venture to Quantico Marine Base to train with the Marines and learn leadership under duress. Oorah!
**
**What's next for Admit Advantage?
There are lots of exciting things on the horizon for Admit Advantage. Continued expansion across demographics and segments (we now cover undergraduate, MBA and law admissions); we are a global company and we will continue to expand our global reach; and we will change the way we deliver advice to our clients in innovative ways.