Why We Love the Official GMAT Guide Practice Questions
The key to achieving the score you want to achieve on the GMAT isn't pumping your head full of knowledge: it's acquiring the right knowledge, and doing so in the right way. One of the most important aspects to your GMAT prep is practice questions. While there are a number of publishers out there that provides practice questions for the GMAT, the questions found in the Official GMAT Guide are the most authentic questions out there, and the best way to gauge how you'll do on the actual test.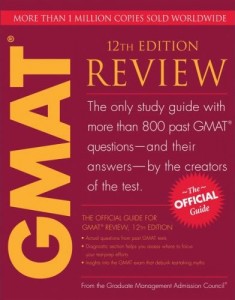 Here are some of the high points of the Official GMAT Guide:
Nearly 1,000 real questions, retired from previous versions of the GMAT

Test questions use the actual test patterns used in the GMAT, including phrasing and logic

Includes a diagnostic test that can help identify where you need the most concentration

Organizes the practice questions in order of difficulty, working from easiest to hardest
This book is the only source of actual GMAT questions you'll find. Because it's published by the Graduate Management Admissions Council – the actual organization that publishes the test – you can be sure it's representative of what the actual test contains. This is a huge benefit, and greatly reduces speculation about what exactly it is you need to be studying.
The Official GMAT Guide isn't enough by itself to give you the practice and information you need to do well on the GMAT though. This is a collection of questions designed to give you some degree of familiarity with the questions on the GMAT, not a systematic study method. The Official GMAT Guide is one important component to your study strategy, but by itself it won't help you do well on the test.
Coupling the Official Guide with a reliable, proven GMAT study guide such as 30 Day GMAT Success will empower you with the important test-taking strategies you need to ace the GMAT. It will give you a study framework to follow that will prepare you, in as little as 30 days, to take the GMAT and to score well. One of the hallmarks of a good GMAT study program is that it effectively incorporates the Official GMAT Guide into its study plan, and 30 Day GMAT Success shoes you exactly how to do so. What are you waiting for? =)