Welcome Claremont Students!
Sit Back and Relax.
You've come to the right place.

A shorter version of the following story can be found here ("30 Day GMAT Success" in 30 Seconds).
Greetings Dear Claremont Students,
My name is Brandon Wu… and in just a moment I will show you how, if you are finding yourself short of time to study, you CAN beat the GMAT…
with just 30 days of studying.
Let that sink in for just a moment!
Many people think that months, even years, are necessary to study in preparation for the GMAT.
I spent less than one month- 4 weeks- 30 days.
And hit the 99th percentile.
Boy was I ecstatic when I left that test center!
If you are running short of time to study for the GMAT, read on.

Before I took the test, I had no idea that my study techniques, and plan, would work.
No idea that my efforts to save thousands of dollars by ignoring others' advice to attend a prep course would 'pay off'.
No idea that I was capable of joining the top 1% of all GMAT takers.
My methods were more than 'effective'…
I scored a 780.
I had realized that it is not what you study, but how you study.
(GMAT concepts really aren't that difficult. They don't go beyond high school Math or English!)

If you are lost, confused, and overwhelmed about how to prepare for your GMAT, then I want you to benefit from my experience.

I assure you that you CAN get a great score with just 30 days of preparation.
*I don't advocate per se that everyone allocates only a month to study. That would be irrational. If you have all of the time in the world, a free schedule, and no deadlines, then you are a very lucky test taker!
But I do believe that those running short of time are not at a disadvantage, and that you should not delay taking the test for a year because you haven't been slogging away for months. This shouldn't affect your ability to achieve a high score. And..
Congratulations for being bold enough to challenge yourself to pass the GMAT in 30 days even though others may think you are crazy. With such an exciting future ahead of you, there is no time to lose!
A True Story of
How I Hit
the 99th Percentile

I'd like to share my story with you.
In December 2004 I was admitted to a master's program in Software Development Management. I decided to take a vacation in January 2005 before I started the program. The trip totally changed my mind about what I wanted to be in the future. Business school seemed to be a much better fit for me.

I decided to apply for MBA programs when I returned to the US in Feb. 2005.
The deadline for taking the GMAT was in the first week of March 2005…
leaving me with only 30 days to study for the test if I wanted to apply that year.
I had never taken the GMAT or the GRE, and I had no knowledge about the test at all!
I thought about going to a prep school but the cost was way out of my budget. Not to mention hiring private tutors that was even more expensive.
I felt frustrated at the thought that only those with lots of money could do well on the test. That seems like a test of wealth, not intelligence.
I had to come up with an action plan…
An action "study" plan that would help me score above 650 within 30 days so that I could get into the business schools I wanted.
Like most people, I was never a genius of any kind. And I had a poor track record on standardized tests; my SAT verbal score was only slightly above 420! Worst of all, English isn't even my native language.
And yet, the WAY I studied for the test enabled me to score much more than the 650 I set out to get.
Please remember – it's the way you study, not what you study.
I scored 99th percentile, 780, on the GMAT the first time I took the test after only a month of studying.
After being asked several times to explain the techniques I used and my study plan, I was inspired to write '30 Day GMAT Success'. You can find out more about why I wrote the book here.
I have poured all of my GMAT knowledge, shared my best tips and techniques, given you all of my advice and offered up my customizable study plan for YOU in these 186 pages. This is not a book full of practice questions. (I leave that up to the experts at GMAC in their Official Guide – the only other book I recommend using in your preparations).
This is 186 pages of study guidance and the techniques for each section of the test that will get you where you need to be in 30 days.
Everything I used to tutor at a rate of $100/ hour is on these pages. Why? Because I consider myself a nice guy 😉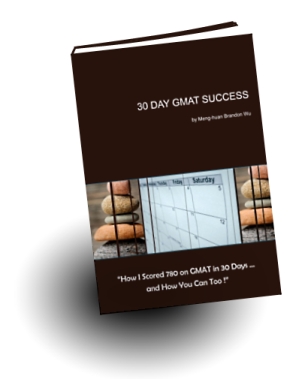 Click Here for Our Special Offers Today
Or Download the Book Excerpt (First 10 Pages of the Book) Here

How I Began Earning $100 / hour
Without Wanting To..
During business school, many people came to ask for my help and GMAT advice after hearing my story of GMAT success in less than one month.
People would pay more than $100 dollars for an hour of lesson and I became a GMAT tutor unintentionally.
These students all had a pretty good idea of what the GMAT is, and the books they had all had plenty of information on things they needed to know. However they still struggled with the actual test.
They couldn't do well on it even after months and months of reading, studying, and taking practice tests.
I found again and again that students would focus only on what to study, and this turned out to be counterproductive. The way they were preparing the test wasn't working for them at all.
I spent my time tutoring them not WHAT to study, but HOW to study.
There are Two Primary Reasons Why
Most People
Do NOT Score a 99th Percentile…
…1. They fail to plan. If they do follow a study plan of any kind, it is a generic one, and is not geared to their unique strengths and weaknesses.

2. They are learning too many techniques, over-studying the wrong parts of the test, not concentrating on the most effective techniques, and therefore overlooking the simplest route to getting a top GMAT score.
Don't let this be you! It doesn't have to be.
In this book, I've shared with you:

Comprehensive information

on all sections of the test to avoid any nasty surprises.

The one thing that will put you ahead of your fellow test-takers: a

YOU- centric study plan

customizable to YOUR strengths and weaknesses, automatically saving you hours of wasted time finding out what you need to study and how.

Detailed explanation

s on the

score-improving strategies that

work,

instead of a plethora of techniques that result in counter-productivity.

Tried and tested

time-management tips

to avoid running out of time on the test, instantly improving your chance of success.
By reading this book, you will:
Learn some helpful tips to keep your

mind and body in top shape

for the month of study, and keep

yourself

mentally

focused

–

this is essential for serious test-takers!

Improve your confidence

by knowing that you have covered all that needs to be studied, and have left no rocks unturned.




Receive daily guidance

on how and what to study.

Learn why a simple notebook is THE most

effective tool

in your GMAT arsenal.

Instantly

eliminate the problem of losing points

by leaving uncertain questions unanswered-

easily fixed!

Clearly

understand the difference

between "

GMAT correct"

and "

Common-sense correct"

–

crucial for doing well on the verbal section.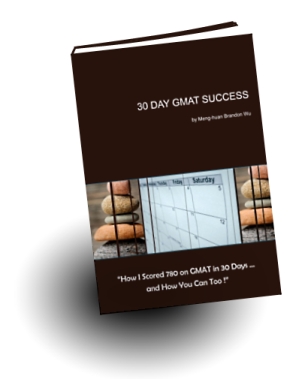 Click Here for Our Special Offers Today
Or Download the Book Excerpt (First 10 Pages of the Book) Here

TABLE OF CONTENTS
My 30-Day GMAT Story
Where am I now?

Introduction: The GMAT

Registration

Test Structure

Analytical Writing Assessment

Quantitative Section

Verbal Section

Your Score

Retaking the Test
Study Schedule
What else you need

Phase 1 Study Schedule

Day 1 – Day 10

Phase II Study Cycle

Day 11 – Day 20

Phase III Study Schedule

Day 21 – Day 27

Final Review: 3 days before the test

Test Day
Section One: The Verbal Portion
Taking the Verbal Portion
Sentence Correction Questions
Understanding GMAT English

Things to Remember
Reading Comprehension
The Scope of the Text

Break it Down

Things to Remember
Critical Reasoning on the GMAT
Understanding Critical Reasoning Questions

Splitting Up the Argument

Assumption Questions

Strengthening and Weakening Questions

Flaw Questions

Inference Questions

Explanation Questions

Things to Remember
GMAT Math
Things to Remember

Arithmetic

Numbers

Operations

Law of Operations

Fractions
Number Properties
Number Line and Absolute Value

Properties of -1, 0, 1 and Other Numbers

Operations and Signed Numbers

Odd and Even Numbers

Factors and Divisibility of Primes

Consecutive Numbers
Averages
Statistics and Probability
Ratios
Percentages
Exponentiation
Algebra
Factoring Expressions
Word Problems
Word Problems with Percents, Ratios and Rates
Geometry

Triangles
Polygons and Quadrilaterals
Circles
Multiple Figures
Data Sufficiency
Things to Remember
Analytical Writing
How Much Time?

The Best Piece of Advice

The Principles

The Second Topic

Tips and Tricks

That's All Folks!

If you are short of time before your GMAT, I believe that you can use it to your advantage, not your disadvantage.
Think of the time, money and stress you will have saved by condensing your studies and concentrating your efforts. Your motivation levels will be consistent and you won't burn out from your studies. You can even have your social life back in 30 days!
This is Value for Your Hard-Earned Money
Preparing for the GMAT can be very very expensive. If you hire a private tutor, it might cost you over $100 per hour. If you attend a GMAT course from Princeton or Kaplan, it will cost you much more than $1000.
You can adopt my proven GMAT success plan and be on your way to the school of your dreams for less than the cost of one hour of tutoring!
(and buy yourself something nice with the extra cash in your pocket.)
This is the most efficient and reasonable GMAT study method for busy people.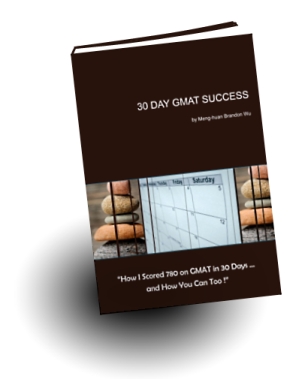 Click Here for Our Special Offers Today
Or Download the Book Excerpt (First 10 Pages of the Book) Here

If you start this 30 day challenge today…
You could accomplish your great score next month!
Exciting isn't it?
I'd be happy to answer your questions. And I love to hear from fellow GMAT-takers. Please find my contact information above.
All my Best Wishes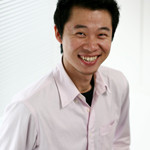 – Brandon

Author of "30 Day GMAT Success".
GMAT Score: 780.
Read more about me in About The Author.
p.s. You can learn more about why this book was written here.
p.p.s. There are special offers available today! Take advantage of them while they last.