| | |
| --- | --- |
| GMAT/ MBA Interview 6 | Co-Founder & CEO of Bennu, Social Media Marketing Company |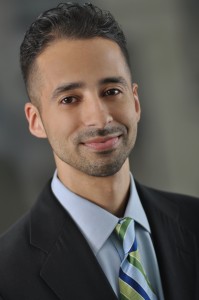 Ashok Kamal graduated in June 2010 from the Full-Time Honors program at Baruch College's Zicklin School of Business in New York City. After business school he went on to become the co-founder and CEO of Bennu, a social media marketing company that develops and executes corporate social responsibility (CSR) solutions. As part of our series of GMAT and MBA interviews, we ask him about his test taking and MBA experience.
Ashok, can you tell us a little about your GMAT taking experience – how and for how long did you prepare for the GMAT?:
**Although business school itself was intense, I consider GMAT prep to be one of the most demanding phases of my overall B-School experience. Like most people, I worked for 5 years before applying to B-School, so the GMAT was my re-introduction to algebra and tricky verbal problems. Fortunately, I enrolled in a prep course and gave myself the runway to study and become familiar with the exam's format. I also took the GMAT twice and improved my score the second time around. When it comes to the GMAT, the "5 P's" of life definitely apply: Proper Preparation Prevents Poor Performance.
What were your reasons for pursuing an MBA?:
I went to business school for two primary reasons. First, I wanted to hone my technical skills. The B-School curriculum is highly quantitative and trains you to better understand the relationships among complex data sets. Second, I wanted to expand my network to people from fields outside my professional background. Between your fellow students, professors, mentors, speakers and company representatives, business school provides a compact community to increase your social capital and open up new opportunities.
What advice would you give a friend working on his/her business school application?
Plan your work, work your plan. Make sure you think through your motivation for pursuing an MBA before you start applying. It's a lifestyle shift to go from working full-time to being a full-time graduate student. You don't need to know exactly what you want to do when you finish business school, but you do need to be ready to embrace change.
What professional opportunities did you gain from your MBA?:
Business plan competitions were the greatest professional springboard during my MBA. In my first year of B-School, my partners and I won a city-wide competition sponsored by Merrill Lynch in NYC. This led to us being selected to participate in the Rice University Business Plan Competition, which is considered the world's most prestigious event for student entrepreneurs. My team's learning and success in these competitions resulted in us forming a social media marketing company, Bennu, which we run to this day.
How did you grow personally from your MBA?
Business school significantly expanded my horizons. I'm a lifelong social entrepreneur, but I had limited contacts with people in industries such as finance and information technology. Moreover, I took advantage of a study abroad program and spent a semester at the Indian Institute of Management, which is the premier business school in India. My perspective is more holistic as a result of the exposure to new people and places that I gained while in B-School.
What was the hardest part of your MBA?
The first semester is trial by fire! Not only is the course load rigorous, but also you have to factor extracurricular activities, job prep and, of course, socializing. It takes some tweaking to calibrate your schedule, but eventually you achieve a rhythm.
Is business school for everyone? Why/ Why not?
Absolutely not. Anyone can benefit from business school, but there are many roads to success. If you're happy with your career prospects and personal life, why interrupt the flow with graduate school? But if you're looking to change gears, short- or long-term, business school allows you to embark on a more emergent path.
**Any other advice for potential MBA candidates?
**
I encourage prospective MBAs to think beyond how they will personally gain from their degree, and also consider how to take advantage of resources that create a broader societal benefit. For example, I was President of my school's Sustainable Business Club, which is the local chapter of Net Impact. Net Impact is a global network of leaders using business to improve the world. My colleagues and I advocated for more courses on green business,  promoted job opportunities in corporate social responsibility (CSR), and supported nonprofits that empower low-income youth. Many of my closest friends — and my current business partners – came from the Net Impact community. The experience afforded me the opportunity to pursue my passion and launch a social enterprise, Bennu, which is dedicated to greening the standard for a new lifestyle.
Thanks for a great and informative interview, Ashok! To find out more about Ashok and his company Bennu, please visit www.bennuworld.com.